"To create, as a community, a leading e-assessment management system
that is scalable, secure, useable and extensible."
Description
ExamSys is an enterprise-level e-assessment system led by the University of Nottingham. It has support for formative quizzes, summative exams, surveys and serveral other paper types. Authentic assessments can be created using any combination of 15 question types together with graphics, audio files and video. It has been designed around standards and supports QTI 1.2 import/export to its internal question bank, LTI support for integration with VLEs and LDAP for authentication.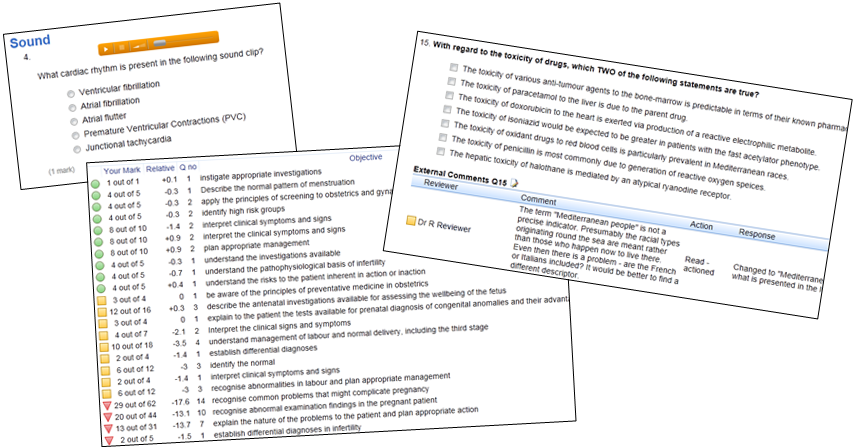 Demo Version
If you are interested in quickly seeing what ExamSys can do please sign up for a temporary account on our demo server at:
LTI is enabled on the demo, you are welcome to use it with the following details:
LTI Key: Rogo-LTI-Key
LTI Secret: Rogo-LTI-Secret
Please see the online help for how to use this.
Downloads
ExamSys is copyright © 2019 and is held by the University of Nottingham. It is released under a GNU GPL v3 open source license whereby partners can modify, extend and contribute to the project. Full source-code can be downloaded at:
For installation instructions please read: Installing the Application
Announcements
The project has a mailing list where new versions and announements will be released. Sign up at:
https://maillists.nottingham.ac.uk/postorius/lists/rogo-oss.maillists.nottingham.ac.uk/
Support
Documentation is available online
Bugs and Feature requests are tracked on the ExamSys issue tracker
Get Involved
We are part of an open source community, as such contributions are welcome.
Thanks
The ExamSys team would like to thank the following for their support:
Atlassian for providing licenses for JIRA, Gliffy and Confluence through their free to open source project.
CrowdIn for providing a free open source license to manage our language packs.
BrowserStack for providing a free subscription to enable us to improve our cross browser support.